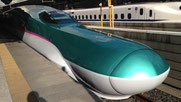 A new Shinkansen bullet train line connecting Japan's main island of Honshu with the northern prefecture of Hokkaido made its first commercial service on March 26, 2016.
The new 150-kilometer line from Shin-Aomori Station to Shin-Hakodate-Hokuto Station brings bullet train services to northern main island Hokkaido for the first time.
The travelling time between Tokyo and Shin-Hakodate Hokuto will be about 4 hours at a maxim speed of 260 kilometers per hour.
The trains run through the Seikan undersea tunnel between Hokkaido and Honshu.
The opening of this new line marks the link-up of a Shinkansen network from Hokkaido in the nation's north to Kyushu in the south.